Regular price
$139.99 USD
Regular price
$139.99 USD
Sale price
$139.99 USD
$139.99 USD
Unit price
per
Sale
Sold out
QUICK DISCONNECT SWAY BAR LINKS
FRONT & REAR ADJUSTABLE SWAY BAR LINKS WITH QUICK DISCONNECT PIN 
These fit the Zforce 950. These fit every Zforce & Uforce model SXS. They fit the trail, sport, Ho, Ho Ex, 500, 600, 800, 950, 1000 1000XL. Literally every model that has sway bars!!! 
This is an adjustable Sway Bar Link for either the front or rear! These also come with a quick disconnect clevis pin! Every sway bar kit comes with the quick disconnect pin, you dont need to order it any differently! These come in a PAIR, so if you want them for the front & rear you'll need to order 2 sets! Quick disconnect pin is a 10mm clevis pin held in with a quick pin. Just pull the pin swing the link over and zip tie or if the way
These are made with 5/8" Chromoly Rod Ends that are Teflon lined for longevity! The 5/8" rod end will give you a tremendous amount strength more than the tiny stock link. Rod ends are Teflon lined to reduce play & increase the length of the life of the rod end! 
Our kit uses an actual bolt instead of a stud which is much easier to remove and install. Bolts are high quality M10 Grade 10.9 paired with hardened high carbon washers and all metal top locking nuts, to insure the hardware never comes loose!
FITMENT:
UFORCE 500 (2016-2021)
UFORCE 800 (2016-2022)
ZFORCE 500 (2016-2022)
ZFORCE 800 (EX/TRAIL) (2016-2022)
ZFORCE 1000 (2018-2019)
ZFORCE 950 (SPORT/HO SPORT/HO EX) (2020-2023)
ZFORCE G2 (800 TRAIL/950 TRAIL/950 SPORT)
View full details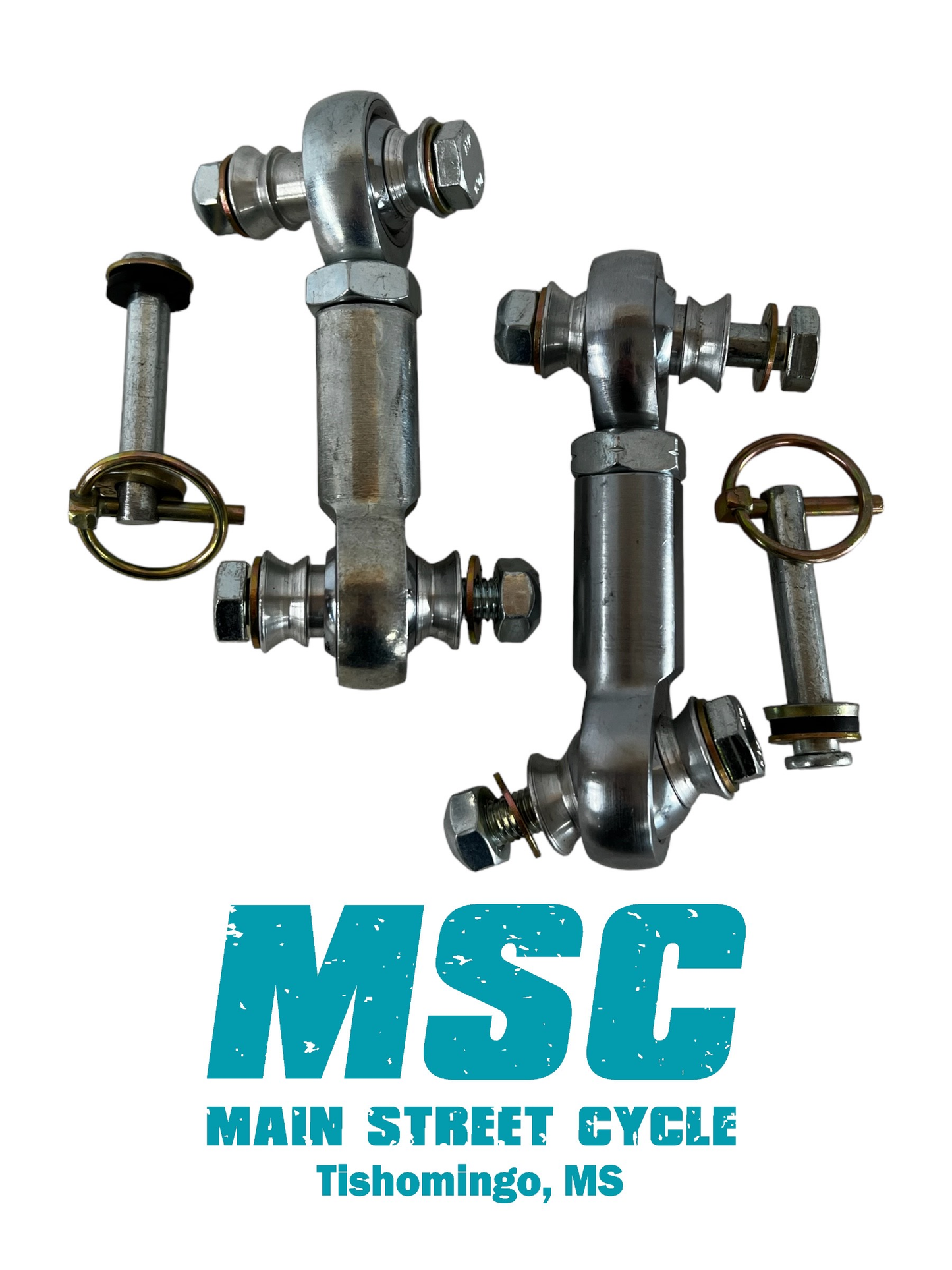 Heavy duty
Just received these. Extremely heavy-duty links, probably 4 times the size of the stock links. I don't see these breaking anytime soon! Quick release is nice in case a belt has to be changed out in the field.